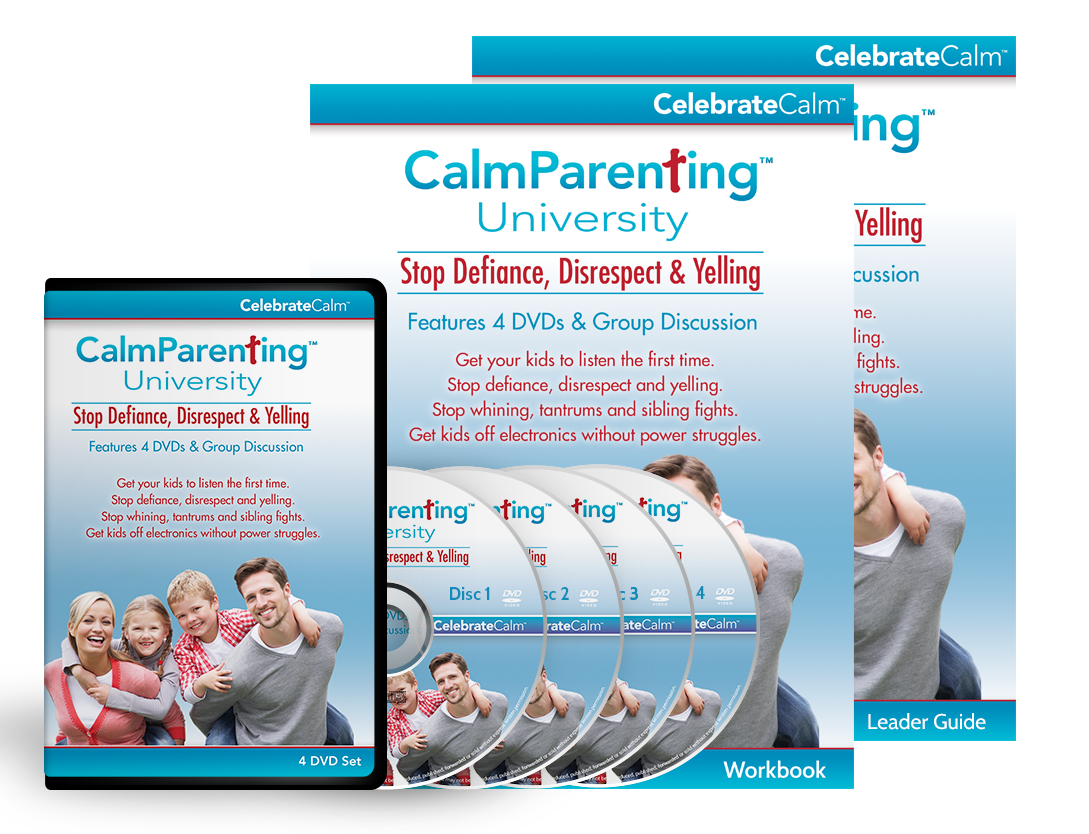 Special Sale: Calm Parenting University DVD Program For Only $150
Want your kids to listen the first time and respect you? The Calm Parenting University DVD Program includes 40 practical, real-life strategies to stop power struggles over homework, video games, bedtime, sibling fights and more. As you watch the four laugh-out-loud funny DVDs, you will feel understood, supported, and get on the same page. Men can relate because it's a guy talking directly to them.
4 DVDs + 40 Strategies = Changed Family. 

 $2

97 Now Only
Kirk delivers the same practical, concrete strategies he has taught 500,000 parents with toddlers, tweens and teens to stop the meltdowns, defiance, yelling, lying, anger,  and the most challenging behaviors you face. Plus you get a Workbook with helpful discussion questions to apply the strategies directly to your family.
Watch the videos below for a preview of the DVDs.
Watch four DVDs packed with 40 practical, concrete strategies and answers to your toughest questions. Watch, go through the helpful Workbook, and enjoy a family discussion together with your kids or just with your spouse. You will learn exactly how to:
Get your kids to listen the first time.
Stop defiance, disrespect, meltdowns, and yelling.
Stop whining, tantrums and sibling fights.
Get kids off video games/screens without a fight.
Improve focus, organization, social skills and confidence.
Stop the power struggles over homework, chores, morning routine, and more.
Calm Parenting University is typically $297. But if you order now during this sale, we will give you the entire program for just $150.

 Calm Parenting University Home Edition (4 DVDs, 4 hours + Workbook)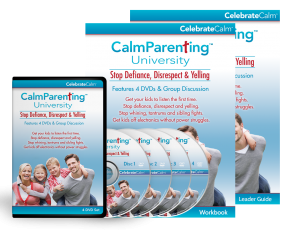 Improve focus, attention, impulse control, organization, social skills, and more.
Improve grades, homework time, writing skills, behavior issues at school.
Build your child's confidence without crushing his spirit.
You Receive:
Comprehensive Color Workbook filled with detailed notes, extensive Q&A, Discussion Guide, Scriptural support, Action steps and Bonus tips. It's a one-stop guide to answer all your parenting questions.
(4) 1-hour DVD sessions. Each week, you will learn 10 new strategies that work with even the most strong-willed kids of any age. The videos are practical, laugh-out-loud funny, and life-changing.
(4) 1-hour Recommended Discussion sessions. There is nothing more powerful than feeling understood and being encouraged by your spouse and family. THIS is building closer bonds in families and is meant to encourage meaningful discussions.
Instant Audio Download of each DVD session. You can listen over and over to each session on your computer, iPad or iPhone.