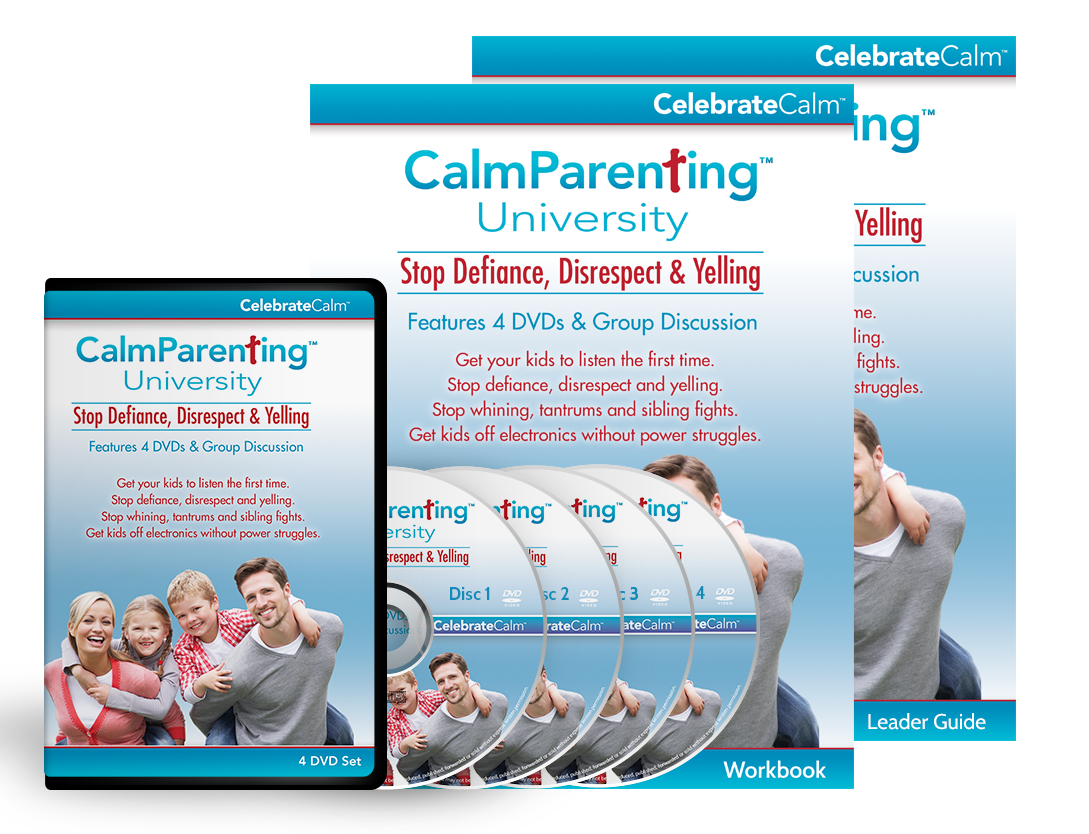 Watch the videos below for a preview of the DVDs.
"Attending the four weeks of Calm Parenting University at my church literally saved our marriage and family. Thank you!"
Join hundreds of churches who have hosted Calm Parenting University.
Practical. Funny. Biblical. Life-Changing.

Your church may have hosted a popular financial DVD program that helps families get out of debt. Parents feel hopeless and families are tearing apart at the seems. Now it's time for your church or small group to help parents of strong-willed kids to stop the defiance, yelling, and power struggles.
SPECIAL PROMOTION: Over 700 churches have hosted Calm Parenting University for the fee of $250. WANT TO HOST THIS PROGRAM FOR JUST $100? Be one of the first 30 churches to email Casey@CelebrateCalm.com or call 888-506-1871. 

Calm Parenting University is transforming relationships between parents and children. Husbands and wives are getting on the same page for the first time. Single parents are finding the caring support they need. And every parent walks away with 40 concrete strategies to help even the most strong-willed children be successful.
4 DVDs + 40 Strategies + Group Discussion = Changed Family. 
Picture a group of parents who are at their wit's end with their strong-willed kids, tired of all the power struggles, feeling as though they've failed as parents. Picture of a group of these parents getting together once a week for 2 hours to watch a dynamic, laugh-out-loud funny parenting DVD program. After watching the DVD, imagine parents being able to share their struggles and successes in a judgement free place.
It's a READY-MADE PROGRAM called Calm Parenting University that includes the following:
– Rights to host an unlimited number of classes for years to come.
– 4 DVDs (one-hour each).
– Easy-to-use Leader Guide with Discussion Questions.
– Sermon Notes with Scriptural support.
– We provide ALL of the customized promotional materials.
– We handle all registrations and make it easy for you.
– Cost of shipping is included in the church fee.
It's EASY for parents, too! See below to learn how Calm Parenting University works for your church and parents. 
Call Casey at 888.506.1871 or email Casey@CelebrateCalm.com to learn more and schedule your first class. Struggling parents will thank you.
Calm Parenting University is EASY to implement. Here's how it works: 
Step 1) Email Casey@CelebrateCalm.com with the name of your church and he will help you select dates to host Calm Parenting University classes.
Step 2) Pay the $100 Fee via Credit Card or Check. Casey creates a customized leader guide, webpage, flyers, PR blurbs, and church bulletins for your church, along with registration links (parents register online directly through us).
Step 3) We work with you to promote Calm Parenting University to parents in your community. Parents register and we ship you all of the materials. Your class is ready to begin!!!
How much does Calm Parenting University cost the church? Churches normally pay a registration fee of $250, but for the first 30 churches to email Casey@CelebrateCalm.com in March, we are offering the program for just $100. The $100 fee covers EVERYTHING, including promotional materials, leader guides, and shipping.
How much does Calm Parenting University cost parents who attend? Hundreds of churches have registered parents at the normal fee of $99. Because we want every parent to be able to access this program, when you decide to host in March registration is a flat fee of $40. We like to keep things simple and affordable for all families. When you register for Calm Parenting University, you pay $40 (Reg. $99) and receive 4 weeks of classes, 40 strategies, and a changed home.
What do parents receive for the $40 registration fee? The PARENTING KIT includes 6 THINGS with registration:
Comprehensive Color Workbook filled with detailed notes, extensive Q&A, Discussion Guide, Scriptural support, Action steps and Bonus tips. Parents love it as a one-stop guide to answer all their parenting questions.
Attend (4) 1-hour DVD sessions. Each week, parents will learn 10 new
strategies that work with even the most strong-willed kids of any age. The videos are practical, laugh-out-loud funny, and life-changing.
Attend (4) 1-hour Group Discussion sessions. There is nothing more powerful than feeling understood and being encouraged by other parents who share similar struggles. THIS is building closer bonds in churches.
Instant Audio Download of each DVD session. Parents can listen over and over to each session on their computer, iPad or iPhone to renew their minds.
Lifetime Membership to attend any future CPU class anytime, anywhere, forever…for free.
Got Calm Bag.