FREE WEBINAR
Your child with ADHD comes home from school, drained and frustrated. You ask him to do something simple like take the dog for a walk or you offer a little help as he struggles with homework. And he lashes out, ignores you, or just shuts down.
How do you connect with a child or teen who doesn't want to talk with you – and who is defensive, angry, or unresponsive? How can you de-escalate these situations and re-establish domestic tranquility? Here, parenting expert Kirk Martin offers practical strategies for turning these potentially explosive situations into opportunities for building a trusting relationship with your child.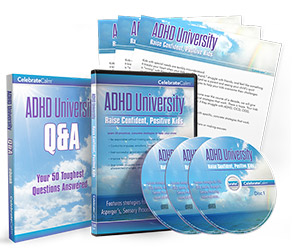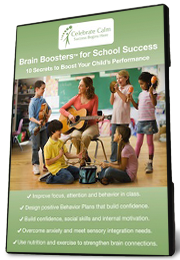 WANT TO HELP YOUR CHILD FEEL CONFIDENT & SUCCESSFUL IN SCHOOL?
First time ever: Get our acclaimed Brain Boosters™ For School Success program (Instant Download). *Only 50 available.
PLUS, YOU GET ADHD UNIVERSITY™ FREE!
Hundreds of schools pay us thousands of dollars to come train their teachers. Why? Because unlike most Professional Development programs, our Brain Boosters™ program is highly practical, relevant to everyday classroom experience, laugh-out-loud funny, and teachers actually want our sessions to last longer. I believe it is the best training in the world. We have never released this before to the public, but we want every teacher to have access to these insights and strategies.
If you want Kirk to train teachers at your school, click here for more information or contact Casey@CelebrateCalm.com with the subject line BRAIN for a one page proposal.
The Brain Boosters™ Program typically cost $495, but we are discounting these Instant Download/MP3s for the first 25 people to only $99 so you can share with up to three teachers. PLUS we will give you the ADHD University™ Package below for FREE.
GIVE BRAIN BOOSTERS TO YOUR TEACHERS.    GET ADHD UNIVERSITY FREE FOR YOUR KIDS.       
If your child (or even you!) struggles with focus, attention, executive function, social skills, organization, follow through, impulse control, writing, doing homework, test anxiety, remembering to turn in homework, etc. this ADHD University and Brain Boosters package is the most comprehensive, practical, and helpful program there is. In addition to receiving Brain Boosters at a discounted price, you will receive our most comprehensive program, ADHD University, for FREE. *Limited to first 25 orders.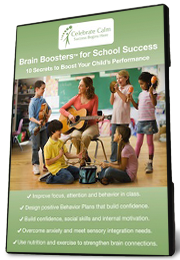 Brain Boosters™ for School Success
10 Secrets to Boost Your Child's Performance (Instant Download Only)
Our kids are bright, curious and imaginative. Teachers, students, and parents are frustrated because traditional behavior plans only crush a child's spirit and cause him to shut down. Listen and learn:
25 practical ways to improve focus, attention and behavior in class.
The one secret that always helps children overcome anxiety.
2 things you should never do with an upset, angry or violent child.
3 common myths that sabotage homework and tests.
How to meet sensory needs to improve concentration and reduce aggression.
Positive behavior plans that build, not destroy, confidence.
Spark internal motivation and responsibility in all kids.
*Share this program with two teachers, who can download the MP3s instantly onto their phone, iPad, or computer.
Bonus: Downloadable Workbook for Teachers & Parents: We have included a helpful Workbook to help teachers and parents create specific, positive Action Plans for each of their children and students.
Brain Boosters comes as an Instant Download/MP3 program only.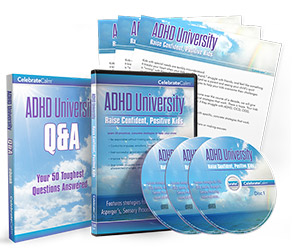 ADHD University™ (3 CDs, 3 hours + Workbook & Kirk's Written Q&A to over 50 Questions) No, your child does not have to be diagnosed or even have ADHD.  This is the most comprehensive program we've ever created. Learn 50 practical, concrete strategies to help your child control his impulses, emotions, anxiety, and sensory issues. Plus it comes with a written Q&A to over 50 questions.
Our promise? You will learn more insight and strategies from listening to this program than from five visits to a therapist. You will understand your child like never before and know exactly how to help him:

Improve focus, organization, social skills, grades and writing skills.
Control his impulses, emotions, anxiety, and sensory issues.
Feel successful, good about himself and accepted by friends.
Stop power struggles over morning, homework, transitions, unexpected changes, dinner and bedtime.
Be responsible without making excuses or blaming others.
Includes 3 CDs, a Workbook and E-book with answers to your 50 Toughest Questions.
Listen to a sample track: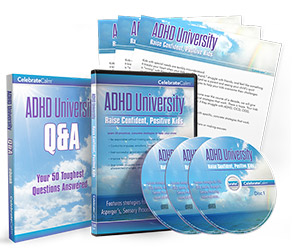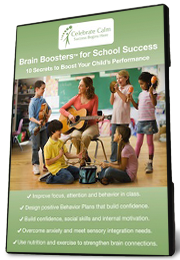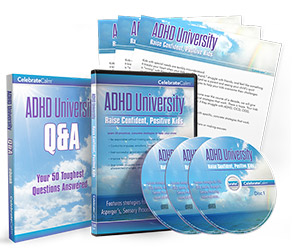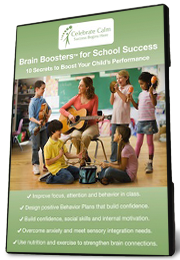 Take this quiz. Our comprehensive ADHD University program will help you if your child:
Controls others, acts bossy and has to prove his point.
Relates well to adults and younger children, but struggles socially with peers (acts silly, immature).
Gets a thrill from pushing your buttons and arguing like an attorney.
Melts down over unexpected changes, disappointments, and little things going wrong.
Is disorganized, forgetful, and impulsive.
Appears unmotivated and underperforms academically.
Becomes frustrated getting thoughts from head to paper while writing.
Constantly moves, fidgets, makes noises, or chews on things.
Plays video games for hours, but can't focus on work for 10 minutes.
Likes to cuddle, wrestle, or be wrapped in blankets.
Is sensitive to touch, noise, sight, aromas, or clothes. Wears the same clothes repeatedly.
Procrastinates with homework, but hyper-focuses on personal projects.
Shows obsessive-compulsive tendencies, needs things to be just so.
Says, "I'm bored!" or "I'm stupid" often.
Gets angry, impatient or interrupts when you talk.
Gets along great with one parent, but struggles when both are around.
Quits or cheats at games, lies and blames others.
Has traits associated with ODD, OCD, Anxiety, Asperger's, Sensory Processing and more.
(1) Stop Power Struggles & Enjoy Your Strong-Willed Child (2 CDs, 2 hours) 
Kirk gives you specific, concrete strategies to get your child to:

Be responsible for himself and make good choices.
Listen without the battles and power struggles.
Do his homework, chores, and daily routine without a fight.
Calm down when frustrated or upset.
(2) Stop Defiance & Disrespect NOW! (2 CDs, 2 hours)   
Stop kids from rolling their eyes, talking back or silently ignoring you.
Eliminate the emotional power struggles and endless arguments.
Diffuse demanding kids who argue, throw meltdowns, or act bossy.
(3) Discipline That Works (2 CDs, 2 hours)  
Give directions one time. No more repeating yourself, yelling or bribing!
Stop lying, hitting, interrupting, tantrums, whining, and complaining.
Teach kids how to control themselves. A must have in every home.
(4) Straight Talk for Kids: Casey Speaks Directly to Your Kids (3 CDs, 3 hours)   
Kids listen as a teenager shows them how to deal with daily disappointment, anger, frustration, peer pressure, irritating siblings, and homework.
Kids feel understood, confident, motivated, and purposeful.
Casey teachers kids how to communicate with parents respectfully to earn trust.
(5) Straight Talk for Stressed-Out Moms (2 CDs, 2 hours)   
Stop neglecting yourself to make everyone else happy. Learn to make yourself a priority.
Say no to unrealistic expectations, perfectionism, and guilt trips.
Don't allow others to manipulate you and push your buttons.
(6) Stop Sibling Fights: Stop Being the Referee (2 hours MP3 ONLY)  
Stop being the referee in the home.
Stop the mean, rude, and hurtful verbal and physical attacks.
Stop the petty arguments over chores, video games, iPads and everything else!
(7) Kids Ages 2-7: Build the Right Foundation (2 CDs, 2 hours, 80 page PDF) 
Kirk shows you exactly what to do in the 80 toughest situations from morning to dinner to bedtime with kids ages 2-7.
Stop the tantrums, screaming, hitting, biting, and throwing.
Get kids to listen and do what you ask without the meltdowns and crying.
(8) 10 Secrets to Motivate Unmotivated Kids (2 CDs, 2 hours)    
Internally motivate kids who don't respond to consequences, are apathetic or don't care about school.
Get your kids to stop playing video games and start being purposeful.
Inspire kids who appear angry, negative, lazy or entitled.  
(9) Men's CD: I Want To Be A Good Dad & Husband (2 CDs, 2 hours) 
Learn simple, practical ways to change the "my way or the highway" approach that alienates your kids.
Calm upset kids instead of escalating situations and punishing. Handle chaos at home after a long day at work.
Make your wife feel valued and respected instead of dismissing her concerns.